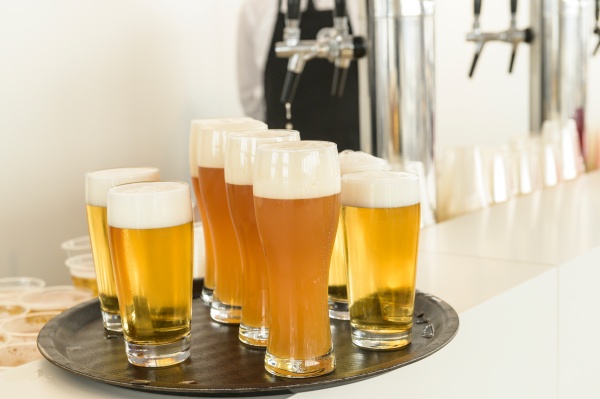 What you need to know about beer on the booth
In Bavaria beer is one of the favourite alcoholic beverages as the typical after-work drink, to toast a successful day at the fair with your booth crew, or especially to celebrate a new customer deal. Beer suits all occasions and we have the perfect style for every taste. From pale to wheat beer to Pils or more extravagant varieties like international Craft beer.
We can offer you a pale ale in two ways: just casually from the bottle or still typically tapped from the barrel? Choose the option that suits you best!

Beer is all about the choice of bottle and keg:
- Bottle: simpler logistics and dispensing
- Keg: the greater experience for the guest, but more time-consuming with the correct handling of the dispenser + carbonated bottle + cooling of the keg overnight.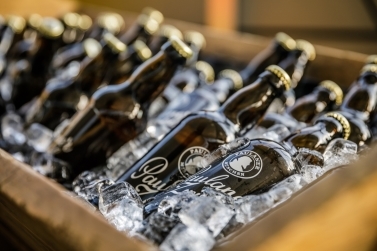 Beer bottle
Just drink the beer directly from the bottle? Yes! Especially the popping top of some bottles, create a moment of fun and a cheery atmosphere. The beer can be drunk directly from the bottle so no further space is needed for beer glasses or other beer tapping equipment. Only a cooling option is necessary for a pure cooled enjoyment.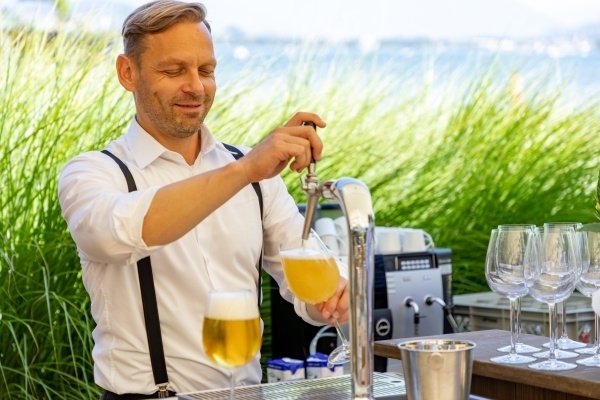 Tapped beer
You want to offer fresh tapped beer at your disposal? We deliver you all the equipment you need: a beer tapping system, CO2 cylinder, pre cooled barrels.
These three elements are connected to each other by hoses and the cooler is connected to the power supply. We recommend our beer tapping systems to anyone who enjoys serving and tapping beer but also has the right technical skills.
Our logistics will connect the tapping system at you booth on the last set-up day.

However, the handling is not that easy and some things have to be considered when using it. Decisive for the perfectly tapped beer are:
- Space required for setting up and installing the tapping system, including sufficient air supply for the water cooler (good to know: otherwise there is a risk of the beer overheating)
- Cooling possibilities of the keg (Good to Know: foam comes out of the tap if the beer is not cooled).
- Perfect pressure via the tap system. Bar display on the system must be checked continuously (Good to Know: Otherwise, there may be irregular beer flow)
- the right beer glasses
- sink at the stand
- fun with beer tapping
Array ( [sprache] => 2 [sid] => 83d521f60c8348e93ef713d00af9f696 [merkliste] => Array ( ) [preis_gruppe] => preis_Messe )